Jones Performance Certified Products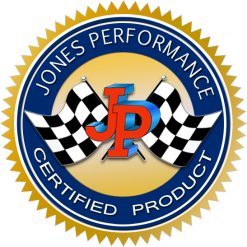 Product Mission
Our mission is to build and source the preferred products for class 6 – 8 truck body parts. We qualify and certify every stock product that we sell. Our customers will be informed as to form, fit, and function of all products sold. We will supply cost effective solutions for our customers with no surprises.
Products with the Jones Performance Product (JPP) Seal have been certified by Jones Performance Products. The JPP Seal identifies products that we have measured, assembled, and installed. We want to inform our customers to the best of our ability as to FORM, FIT, and FUNCTION.
FORM: The products are checked for variations in size, shape, and other physical differences to ensure the product is true to the original manufacturing part.
FIT: The products are able to be mounted onto an OEM hood and our Jones Performance hood in the proper way.
FUNCTION: The products are checked for any damages while verifying they work in the correct way along with ensuring the quality is comparable to original parts.
The JPP Seal provides our customers the confidence of knowing the products are good quality. We are committed to making your job as easy as possible.