Jones Performance Products New Website Features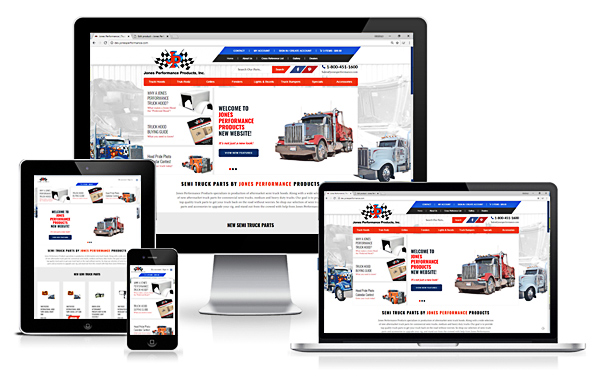 Jones Performance Products new website has many new features including a fresh new look, easily viewed on any device, and will provide an overall better shopping experience for our customers. We have outlined some of the new features that we think our customers will like.
Reorganized navigation
We included a new, "Shop by Brand" section to our homepage, making it is easier for our customers to find the parts they need faster. Each truck brand will have a list of products that we have available for a particular brand.
Search for OEM numbers
The website has been updated with a more powerful search engine, and can search our site more accurately for OEM part numbers. This will help create a better experience for our customers by providing fast and reliable results.
Competitive shipping rates on small packages
To provide the best possible shipping rates to our customers we have provided the option to ship with either UPS or FedEx. So our customers know they are getting the best shipping rate possible.
Now able to serve Canadian customers
We will also be able to take orders from our Canadian customers who want to purchase products that are shipped UPS or FedEx.  Unfortunately, we will not be able to take truck hood and bumper orders from our Canadian customers through our website at this time. However, Canadian customers are able to place orders for our truck hoods and bumpers by phone.
Multi-lingual translations
Our customers will have the ability to translate our website to their language of choice. At the bottom of every page there is a language selection drop-down box where customers can choose their preferred language.
Body shops can now purchase parts at their price level
We have also make it easier for our body shop (Contract Fleet) customers to get product prices, and place orders through our website. Body shops will be able to order parts from our website at their pricing level when they log into their account. Body shops that are interested in making purchases through our website are able to do so by calling us at 1-800-451-1600 Ext. 259 to get an account setup.
View "real time" inventory
With the new "real time" inventory tracking system, customers will be able to visit our website, and be able to see if a particular product is in stock. No need to call, just view the product details page for inventory status.
We now use PayPal for credit cards, payments, and a line of credit.
We now use PayPal for all of our payment methods. We are now able to accept PayPal payments on our website, which will provide our customers with another secure way for them to pay for their orders. We will also continue to accept Visa, MasterCard, and Discover credit cards. Along with accepting PayPal Payments, our customers can also apply for PayPal line of credit through PayPal. This will allow our customers to finance their purchases if they need to.
Truck Hood buying guide
Another useful resource that we have created is our new Truck Hood Buying Guide. We wanted to offer a resource for potential customers to move smoothly through the hood buying process.   It outlines everything you need to know when buying a Jones Performance truck hood. Including the information you will need to know before placing your order. Important information to keep in mind when shipping the hood, and properly prepping and fitting of the hood on the truck. It is a very informative resource, and we hope that it makes the hood buying process easier for our customers.